News & Articles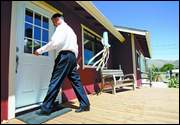 A country doc in Carson City
He carries a medical bag and a crash cart along on patient visits.
August 13, 2006
Nevada Appeal
by Becky Bosshart
At all hours of the day, Dr. Robert Fliegler is on call. Sick patients can interrupt his dinner or rouse him from bed. They come to his sparsely furnished Carson City office or he goes to their home to administer shots, check blood pressure or conduct allergy tests.
Despite its demands, this is the profession that Fliegler prefers. He left Carson Tahoe Regional Medical Center for the life of a country doctor, who isn't really in the country.

"Concierge doctoring" wave of future?
Concierge doctoring offers a solution for both doctors and patients. It provides the luxury of time, accessibility and thoroughness.

Local MD Offers House Calls
reprinted from washoevalley.org
"My practice model is different from the standard modern medical practice in several ways and is focused on fostering a strong patient-physician relationship. I limited my practice size to 400 patients rather than the typical 3000 to 5000 patients seen in other internal medicine practices that are seeing 30 patients per day.
I am available to my patients 24-hours-a-day-seven-days-a-week via cell phone or email and I offer same day appointments any day of the week with no waiting. I also make house calls which I have found to be an especially rewarding experience
In short, I do everything I can to bend over backwards for my patients, and this model gives me the time and availability to do that.
I work within Medicare and the other insurance companies so that all x-rays, labs or other out-of-the-office expenses are still covered by the insurance companies. The insurance companies however do not cover the monthly fee that I charge for this service."
January 3, 2006